Beginning in 2016, GST Michigan Works and SEMCA Michigan Works participated in research with ABT Associates, Mathematica, and the Office of the Administration for Families and Services to understand more about the impact and implementation of a coaching approach for people receiving cash assistance. The Prosperity Agenda trained selected staff at both agencies on an approach that was called Michigan Goal Progress Success (MI-GPS), which combined the Career & Life Coaching model (see report below) we developed and some supplementary tools, like the Bridge of Strength. Following the the research, we returned to SEMCA and GST to train the remaining staff on MI-GPS, and then later, to broaden that approach to center on family, through training on Family-Centered Coaching.
In 2019, GST Michigan Works further partnered with The Prosperity Agenda for a series of participant- and staff-led design activities to further optimize their coaching approach for family experience. Building off the Family-Centered Coaching toolkit we are developing:
Anatomy of a Coach: An online learning series for all staff to increase understanding of the coaching mindset and create ways to practice the coaching mindset at work. This includes staff at all levels and precedes training on the toolkit.
Family-Centered Community of Practice: A flexible structure to launch and maintain a peer- and strength-led community of practice that is centered on feedback from families through the Coaching Experience Survey. This allows staff to continue to master their coaching skills and share what works and doesn't work with their leadership.
Family-Centered Customer and Learning Journey: Grounded in participant and staff experience, this map of the current and desired experience for families allows staff to anchor, and continuously improve, service delivery. A learning journey aligns to offer the staff mindset and skills needed to provide this level of service.
Coaching Experience Evaluation: This report (available in November 2020) will examine the integration of a trauma-informed and racial equity lens for coaches, the use of Family-Centered Coaching tools, skills, and mindset by coaches in the services provided, and the impact of Family-Centered Coaching framework on the experience of the clients.
Michigan Coaching Evaluation Report
The report, "Implementation and Impact of a Goal-Oriented Coaching Program for Cash Assistance Recipients in Michigan" (August 2020), describes the implementation and impact study findings at GST Michigan Works and SEMCA Michigan Works.
Career & Life Coaching Evaluation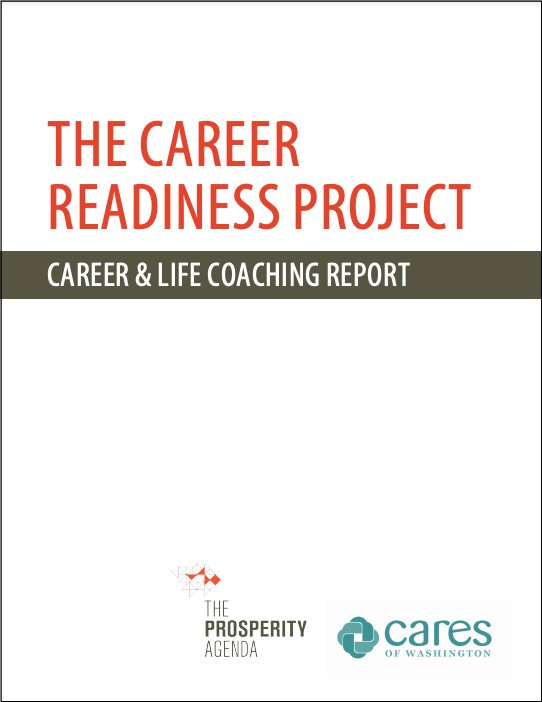 The report below provides background, overview, and highlights of the impact of Career and Life Coaching (read more in the Career Readiness Project Coaching In TANF Evaluation Report)—a component of the Career Readiness Project. This part of the pilot program ran for eight months and went through two evaluation phases. During this time, coaches worked individually with parents in Washington State's WorkFirst program, which provides support services and activities to parents enrolled in Temporary Assistance for Needy Families. Parents who received coaching were all enrolled in the program and had previously received TANF benefits at least twice.