Last February we launched the Family-Centered Coaching for Racial Equity Project in partnership with W.K. Kellogg Foundation and eight organizations committed to advancing racial equity. 
We are guided by community members and stakeholders in each step of our process. This details how we created the New Orleans Community Insight Report and what we plan to do next. 
To center our engagement in local experience and expertise, we began by launching Family-Centered Coaching for Racial Equity Working Groups in both Mississippi and New Orleans. In New Orleans, this includes eight stakeholders from four local organizations–The City of New Orleans, Total Community Action, New Orleans Business Alliance, and Kingsley House. 
We started by asking the group: 
How would you describe success for this intervention? 

What role does your organization play? 

How does that role overlap with others in the room? 

What is the role of other system actors in New Orleans and who are they? 

Who needs to be involved if we want to make progress on racial equity in New Orleans?
Mapping the Community
Next, the working group turned their attention to Stakeholder Mapping to identify the groups of people who have a vested interest in making progress towards racial equity in New Orleans. 
We wanted to identify: 
Who benefits and who is responsible for making progress on racial equity?

Who needs to take part in solutions and who encounters those who need to take part?

Whose lives are directly affected by racial inequity? 

Who needs to make decisions about racial equity and who can contribute to paying for solutions? 
The working group members brainstormed 21 stakeholder groups and their proximity to the goal of racial equity by moving them closer to the center of the map (Figure 1). Our stakeholder map determined who we reached out to for in-depth qualitative interviews.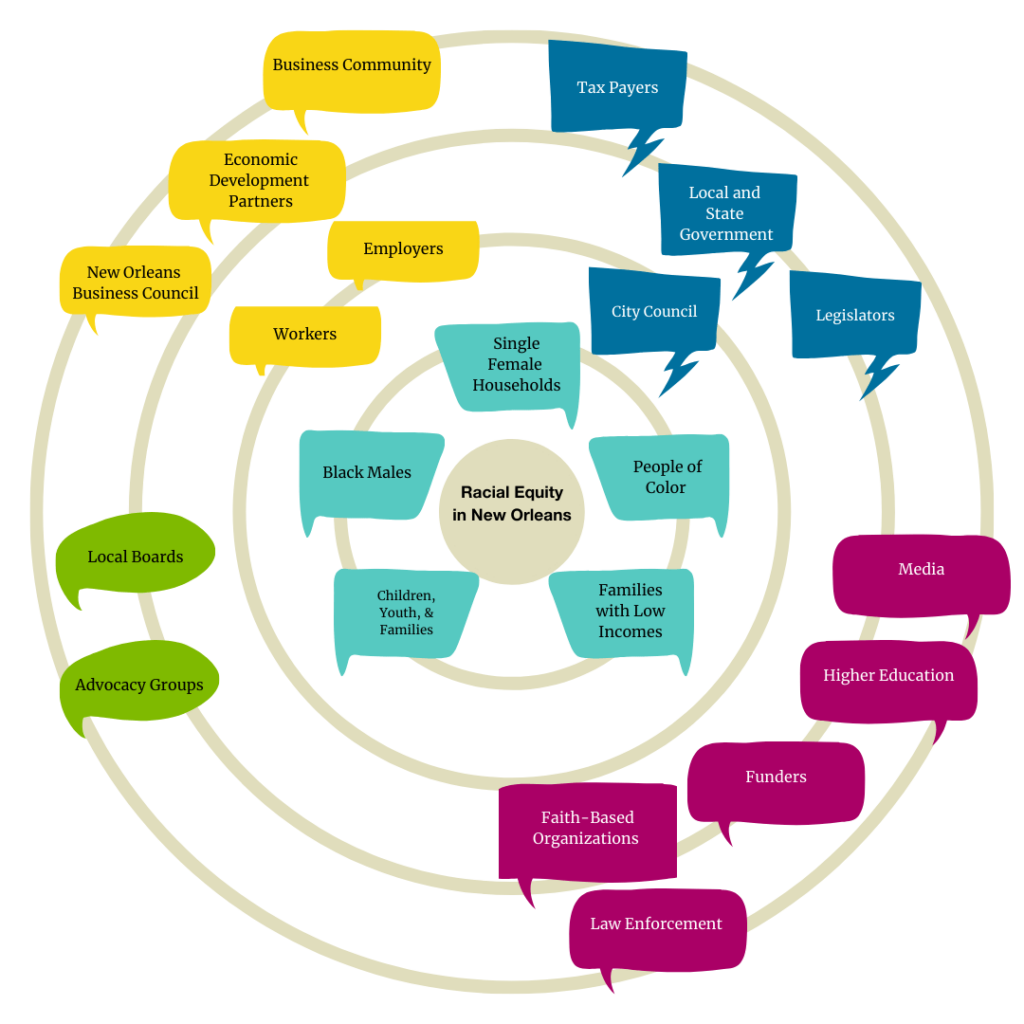 Interviewing Community Members
With the stakeholder map in hand, staff at The Prosperity Agenda facilitated in-depth conversations with 25 community members including: residents, business leaders, philanthropists, government officials, policy advocates, and educators. Based on these conversations, we summarized what we heard into ten ideas to make progress on racial equity (Figure 2).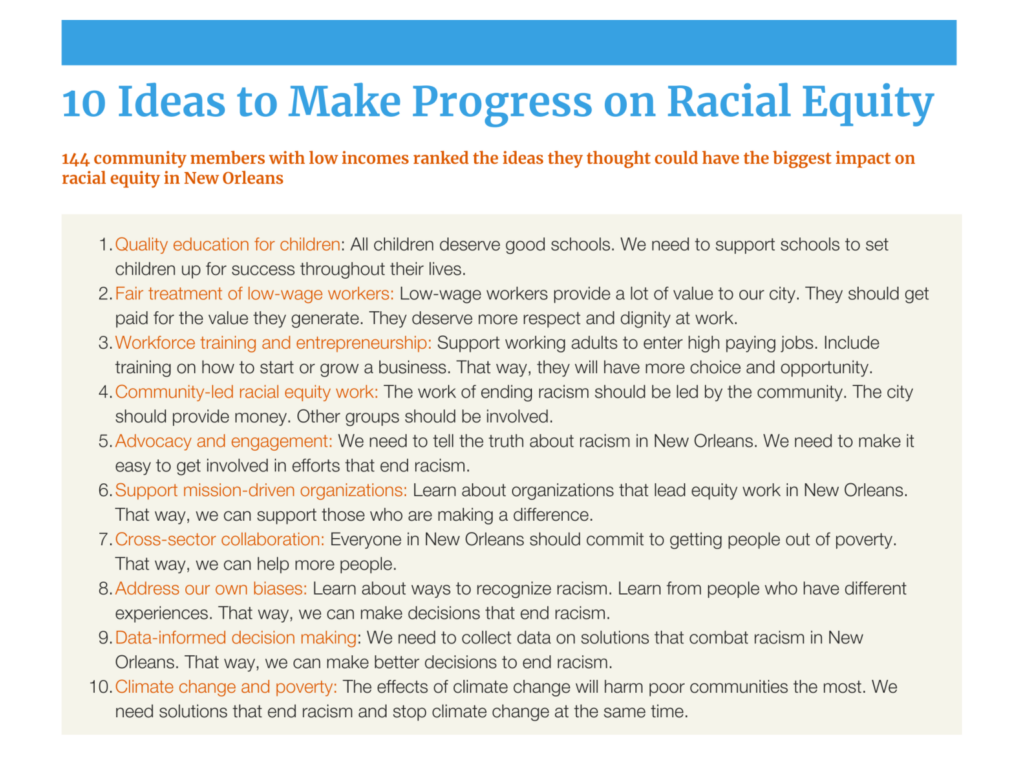 Using a survey, we then asked a broader, more diverse group of community members to rate the ideas by importance, feasibility, and impact. These efforts paid off as we heard back from 144 community members, all living with low incomes. Based on those conversations and results, we refined our design question and produced the New Orleans Community Insights Report. 
Synthesizing Community Priorities: New Orleans Community Insights Report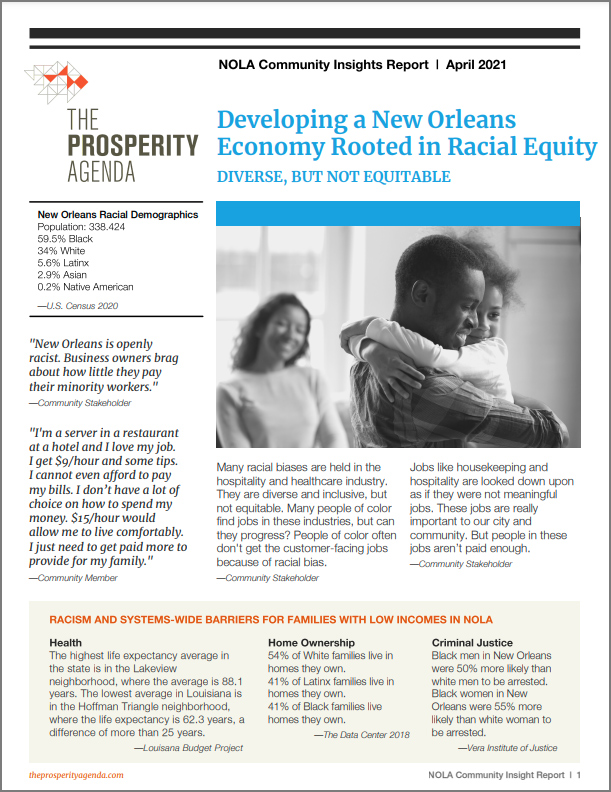 The New Orleans Community Insight Report (April 2021) includes varied perspectives, but taken together they tell a collective story about racism in New Orleans. The report offers a blend of first-person insights and quotes with relevant secondary data about economic conditions and racial inequities. It is grounded in the knowledge of critical, local stakeholders. 
We choose to format our insights as a newspaper, an information source that most people are familiar with, to demonstrate credibility, without being intimidating. One of the goals of the Community Insights Report is to share information that is not usually heard. 
To make sense of these findings and propel into action, we've convened a design team made up of residents, business leaders, policy advocates, government officials, and nonprofit providers. The report offers a baseline of information to build from in design sessions. 
Over the course of four virtual meetings, the design team will refine the ideas to make progress on racial equity and create a testable program. 
What's Next?
We are grateful to also share the report with you. As the design team progresses, we'll report on their contributions and our efforts to pilot, evaluate, and replicate their success. For more information on our grassroots research, community-driven design process, or findings of the project, please email us at design@theprosperityagenda.org.