At The Prosperity Agenda, we approach quality jobs by working on both sides of the labor market; especially with employers to increase access to quality jobs, create pathways to wage growth, and invite employees to use their full set of talents at work.
Our latest partnership, The Inclusive Recovery Project, seeks to broadly build employment opportunities for the 70 million Americans who have a conviction history. The unemployment rate for formerly incarcerated talent (FIT) was 60 percent in the nation's last recession. Our goal is to ensure that post-pandemic economic recovery plans are equitable. 
"We can't have racial equity without addressing mass incarceration and policies that exclude people with conviction histories" said Susan Mason, the formerly incarcerated executive director of What's Next Washington, an organization of formerly incarcerated individuals and allies.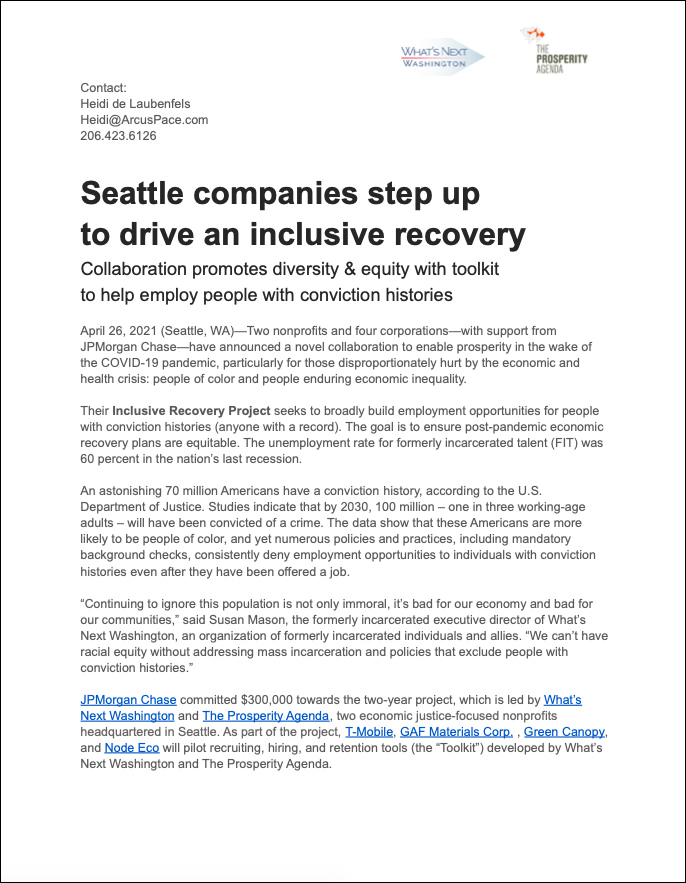 By partnering with What's Next Washington, we are able to combine our tools, research, and strategies--rooted in the insights of over 200 frontline workers, managers, and leaders--with What's Next Washington's products and services for human resources. Central to this is the Get FIT Guide and employer training that ensure that people with conviction histories are recruited, hired, and retained in jobs where they can build financial wealth and security.  
Read our full press release and and then reach out for a conversation about funding or otherwise partnering on The Inclusive Recovery Project. 
Thank you to JPMorgan Chase for the funding support that has launched this project!