We know that money is already often weighing on the minds of people experiencing poverty. And during these times of extreme uncertainty, people's main financial concerns become even more immediate rather than long-term. The National Endowment for Financial Education found that 7 out of 10 people are concerned about their finances during COVID-19 and nearly half described themselves as very or extremely concerned. The list is long, but people are especially worried about job security and having enough emergency savings to weather this storm.
To better understand how organizations could deepen their conversations about money with participants (now by phone and video), we held workshops in May and April 2020 to train 71 practitioners and leaders at seven Washington State and two national organizations. For organizations who do not typically talk about money, we offered Money Mindset Cards as a way to discuss money with ease and impact. For financially-focused organizations, we explored ways to reduce participant's anxiety and shame about money during the accompanying financial crisis so participants can feel more in control of their finances.  
Conversations About Money By Phone and Video During COVID
We learned that these conversations helped put participants at ease and acted as a bridge to more technical financial education. The Money Mindset Card activities sparked organic and easy conversations that opened people up to reflection and action. Staff shared that:
"People let their guard down and explored attitudes toward money. Great question and inquiry process." 
"I like the reflective conversational tone of the cards. They seem friendly, simple, and easy to use. You could enjoy doing this together. They give people an opportunity to breathe" 
"Most participants were excited to complete the activities and share. The cards got them thinking about the motivation behind their financial goals as well as a few ways to begin taking steps." 
Impact of Practitioner Mindset During Conversations About Money 
Financial education tends to overemphasize an individual's need to take personal responsibility, overlooking how inequitable systems limit what choices are available. Poverty is not the result of bad choices. People play a role, but their current financial status is not evidence to evaluate their intelligence, motivation, or likelihood of success. 
Money Mindset Cards are an opportunity for practitioners, participants, and financial professionals to explore how our deeply held beliefs and attitudes about money affect financial learning, teaching, and interactions with financial institutions. An equitable approach to conversations about money leverage a person's strengths, discovers financial identity, and builds financial control. We can bring a money mindset of equity by acknowledging and revealing how economic systems determine the choices and opportunities available to people. 
How and where does a personal responsibility money mindset shift to an equitable money mindset?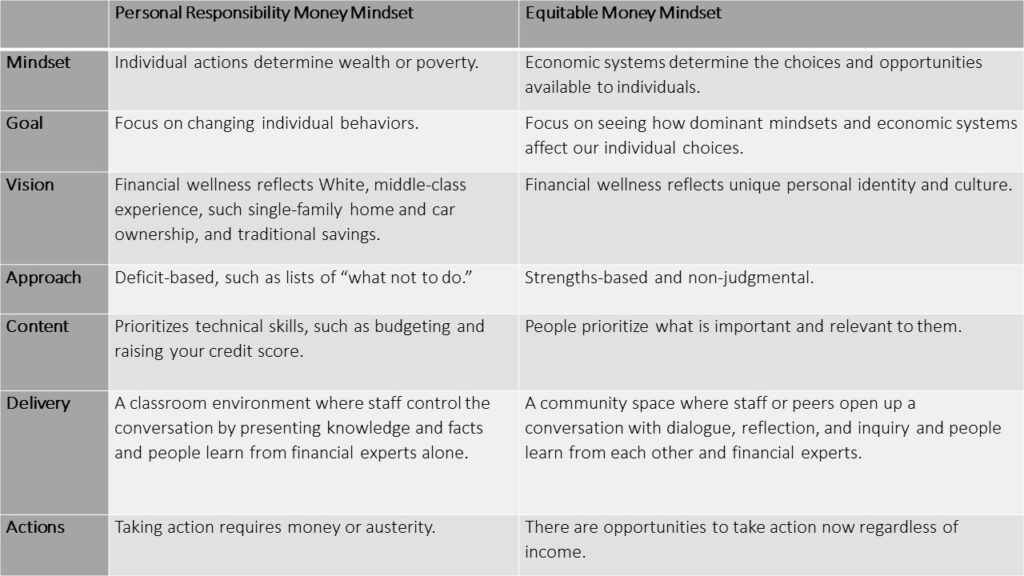 Acknowledgments!
We thank Harborstone Credit Union and Banner Bank for supporting this work along with the dedicated staff of Lift Financial Group, Circles USA, YWCA Seattle King Snohomish, Community Action of Skagit County, United Way Snohomish CORE Collaboratives, Workforce Snohomish, Sound Outreach, Goodwill Olympics & Rainier Region, and ANEW.